Right here, you should find everything you need to make that crucial decision to invite me to come and wow your audience. If you need other photos, or effusive quotes from local luminaries, or a longer bio, just click on one of the links.
Bio
Boston musician Sam Bayer is your literate, exuberant guide to an imaginary world where housewives win the Nobel Prize in physics, poker-playing children gamble over their bedtimes, and metaphorical elephants pirouette in the den, four and a half minutes at a time. His latest studio CD, The Great Indoors, brings 11 gems from his universe to yours.
Music
Here are two sample tracks from my previous studio CD, I'm Not a Modest Man.
And here are two sample tracks from my latest live EP, Thirds.
More MP3s can be found
here
.
Video
Here are two videos from my performances in 2011.
You can find more videos on my YouTube channel.
Photo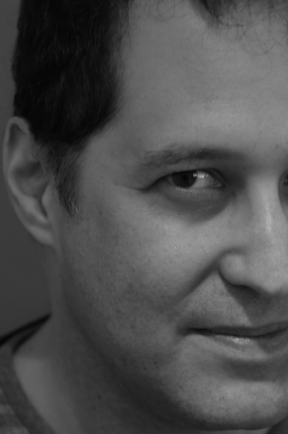 My preferred publicity photo is there on the left. You can download a 300dpi, high-resolution version, in color or black and white.
Contact
If you're sold, please call or drop me a line. Let me know the proposed date, slot, other folks on the bill (if possible), length of set, and the best time (and way) to reach you. I will typically respond within 24 hours.
Web: http://www.sambayer.com/book_me.html
Email: booking@sambayer.com
Phone: (617) 576-3127
Mail: 1 Stearns St. #3, Cambridge, MA 02138
If for some reason my preferred publicity photo doesn't float your boat, you can find a few other options immediately below. All the links will download 300dpi, high-resolution images.
All publicity photos are by Steve Black.
"[Sam Bayer] will dazzle you with his refreshing mix of storytelling, original tunes and his unique stage presence."


- Paul Duffy, host of the Front Street Coffeehouse open mike
"Sam Bayer is a local treasure - writing songs with the humor to keep you lauging and realism to keep you thinking."


- Club Passim Calendar, July/August 2006
"One of the best songwriters in the state, if not the region."


- Steve Rapson, guitarist, producer, former host of the Java Jo's open mike in Milton, author of The Art of the Solo Performer (otherwise known as "the best $20 you'll ever spend")
"There's an element element of tragedy in every funny moment in Sam Bayer's songs, whether it is a level of frustration, anger, discomfort, inadequacy, defiance, lack of care or excess of care. That element is what makes funny memorable - unadulterated, unidealized, real. Sam Bayer's songs have the power to grip my heart and demand my attention."


- Susan Irene Master, singer, poet, former host of The Folkal Point coffeehouse at Springstep
"Sam Bayer is a fully-fleshed musical experience on two very long legs! His bass voice rumbles with mellifluous ease through each tune, whether it's a political spoof or a love song. What I find MOST engaging, however, is his laid-back charisma -- I've witnessed folks, who were initially fooled by his easy-going energy, get snapped up and mesmerized by his lyrics, melodies, and engaging stage presence. Whenever I see him at a space, I find myself grinning as soon as I do, because I know I'm in for a great musical treat that night. Consider yourself blessed whenever you have the opportunity to experience his music!"


- Julie Woods, musician, painter, author, founder of Fans With Cans
"To say that his songs are intelligent and often very funny falls short of the mark. Sam Bayer's songs drag us, kicking and screaming, into the 'Tune Town' that is America in the twenty-first century. And he does it with compelling music and language that is as vivid and picturesque as Noel Coward's best work."


- John Boehmer, songwriter and poet
My bio page is available as a PDF document. Here's the text version (but please look at the PDF - I worked so hard...):
Imagine a world...

Where housewives win the Nobel Prize in physics, poker-playing children gamble over their bedtimes, and metaphorical elephants pirouette in the den.

Where disappointed minor leaguers, frustrated therapists, and small-time crooks tell you their side of the story, four and a half minutes at a time.

That's the world of Sam Bayer: literate, resonant, exuberant - a man who will literally dance his characters across the stage. A composer, songwriter and performer for more than 25 years, Sam grew up in Cleveland, Ohio, the musical child of Joplin, Chopin and good old Midwest rock'n'roll. His latest studio CD, I'm Not a Modest Man, brings 9 gems from his universe to yours.

Discs

Live at Club Passim, 3-song EP, 2000
Life is Like a River, 3-CD set, 2003
Do You Believe, 5-song live EP, 2005
Thirds, 9-song live EP, 2007
I'm Not a Modest Man, 9-song studio CD, 2008

Sam's "Millennium Song" has been covered by Dan Hart on The Life of Dan; in 2004, his ska-tinged ode to childhood, "Putting Sophy to Bed", appeared on Boston's Best Singer-Songwriter Showcase V, alongside such Boston notables as Deb Pasternak, Julie Dougherty and Thea Hopkins.

Gigs

House concert with John Schindler, April 2004
Club Passim, Cambridge, with Dan Hart, Stanley Matis and Katherine Pritchard, June 2004
"How To Raise Your Own Voice", First Night event at the Hynes Auditorium, December 2004
Mozaic Room, opening for Jack Hardy, November 2005
House concert with JP Jones, January 2006
Green Rooster Coffeehouse, opening for Valerie and Walter Crockett and the Oxymorons, February 2006
Amazing Things Arts Center, opening for John Forster, May 2006
Club Passim, Cambridge, split bill with Mark Stepakoff, July 2006
Steeple Coffeehouse, Southborough, opening for Blackstone Valley Bluegrass, April 2007
Upton House Concerts, with Kim Jennings opening, October 2010