3/19/06
: My friend Caroline Gelman, a professor of social work at NYU, is going to be using the instrumentals from my song "Love Letters" as the soundtrack to one of a series of social work training videos she's producing. (She's probably never heard
"Therapy"
.) So I'm a shoo-in for the Oscar for Best Soundtrack for a Social Work Training Video.
2/25/06
: I've gone out and bought myself a second guitar. And yes, it's a Gurian, just like the first one. Y'see, I broke a string at a gig a while back, and if it weren't for the kind sideman for the headline act, I'd still be standing there with my jaw slack, in the dark, wondering what to do...
2/3/06
: I'm pleased to report that my name came up twice in Scott Alarik's fine article about the Boston open mike scene in the Boston Globe's January 26 edition of the Calendar. Here's what he said about my song "A Bigger Glass of Empty": "Sam Bayer sang a lovely twist on songwriters' penchant for self-pitying ballads, confessing he'd whine more but keeps seeing people with a 'bigger glass of empty than me.'" He also mentioned my
open mike site
in the sidebar which listed open mikes. He also
spelled it right
.
4/29/05
: I've moved my website over to
Midphase
, which is a real site hosting organization. So it should really say sambayer.com in your browser window, and I'll soon have a real mailing list and all sorts of stuff. Just like a real live boy.
8/16/04
: One of my performance idols, Julie Woods,
has this to say (blush, dimple)
.
I'm being compiled!
| | |
| --- | --- |
| | 6/4/04: I'm proud to report that I'm joining Julie Dougherty, Joe Kowan, Deb Pasternak, Steve Gretz, Kate Redgate, Lisa Bastoni, Tom Driscoll, Thea Hopkins and a bunch of other very talented folks on the Boston's Best Singer/Songwriter Showcase sampler CD for 2004, put together by the folks at Bay State Sound. This is a promotional CD (you can't buy it, from me or from anybody), so of course, I'm expecting the phone calls to come rolling in any day now. |
Open mikes in the news
11/30/03: I've recently been interviewed about the Boston open mike scene for two publications: by Jo Charest, host of the Folk in Harmony coffeehouse, for May 2003 issue of the New England Entertainment Digest, and by John Winters, for the November 20, 2003 Weekender section of Attleboro Sun Chronicle.. Don't worry, I won't let it go to my head.
Helping out my friends
4/7/02: I'm also flattered to report that I added some piano to tracks on recent albums by my friends Terence Hegarty and Mark Stepakoff. Check them out too!
Lyric archive
4/7/02: The lyrics page now includes an archive of the lyrics I've posted over the years on my Web site.
I'm being covered!
6/22/01: I'm absolutely flattered and honored to report that my good friend Dan Hart has covered "The Millennium Song" on his album The Life of Dan. Check it out!
It's a paltry collection at the moment, but now that I have a digital camera, count on it mushrooming.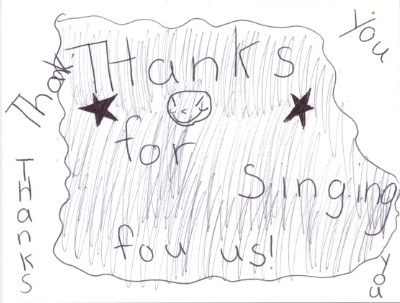 Amazing Things Arts Center, December 2006. A tiny little girl drew this on the back of one of my gig cards after our set. Too cute for words.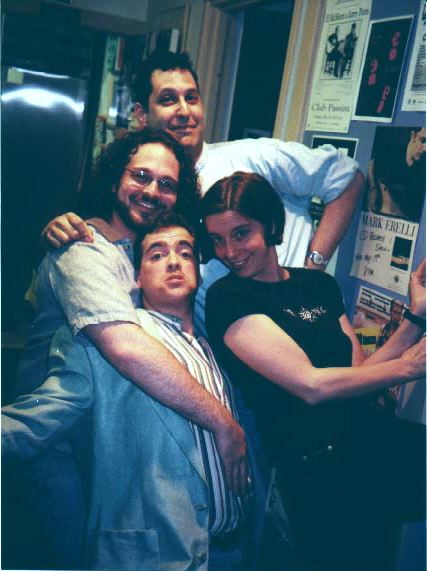 Club Passim, April 1999. Live at Club Passim was recorded this particular evening, which I shared with Eric Gerber, Eric Schwartz, and Summer Pierre.

My beloved guitar.
I play a Gurian acoustic guitar. Michael Gurian is a famous luthier who worked mostly in New Hampshire. A fire destroyed his workshop in the very early 80's, and he no longer builds guitars, from what I understand. Only a few thousand Gurians were ever made. I love it for its punch and its clarity. Todd Thibaud once told me that it looked like a whole lot of fun to play, and it is. You can see a picture of it over there in the photo section.
If it's open mikes you're after, and my list just isn't enough for you, check out the links section over there.
And last but certainly not least, I'm the less successful half of a pair of musical brothers. Trust me, he's the best damn jazz bass player I've heard in a loooong time...
My publicity photos, as well as the CD photo for Live at Club Passim, are by Steve Black. Steve is a talented commercial and art photographer, and a friend. He doesn't have a Web presence, but I can put you in touch with him if you're interested. He's a delight to work with, and easily as imaginative as a number of far better known photographers in the area.
My signature font is Marydale, available from the Type Quarry. Iused Marydale for many years before I discovered that it really was never intended to be free. Pay for your fonts, people.
The technology under my audio player is jPlayer, a customizable audio player based on the jQuery Javascript library. The player skin is inspired by the jPlayer skin, but the graphics are my own.
Some of my icons come from the Crystal interaction design project, which is responsible for the icons in a wide range of open source software projects.
Geek that I am, I'd like to acknowledge the Prototype open-source Javascript package, which I've deployed with my Web site.
As for the graphic design for my Web site and my albums, it's all me.